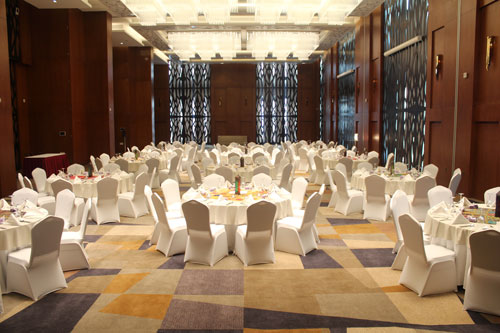 When it comes to planning any type of event or celebration, perhaps the most important decision to be made is which venue to choose! With so many choices available, how do you choose the best ballroom in Doha?
First things first, it's all about the location. Not only do you want your guests to have easy access to the venue no matter if they are travelling from near or far. But you also want to consider where the facilities are actually located within the building itself – you don't want a venue that is dark and depressing but rather you want something with a feel of light and space that makes your guests feel welcome.
You may need to use several spaces depending on the function you are planning. For example does the venue provide you with the flexibility to separate its spaces so you can have a small intimate gathering or reception, and then open up the room into one large space which can accommodate all your guests?
What about technology? You want a venue that has state of the art audio visual facilities, whether you simply need microphones for speeches or a large screen for projecting a film, you need to ensure that the venue can accommodate your needs without you having to hire equipment at an additional cost.
Finally you want to consider what other facilities and services are available, for example is valet parking available. It's the small details like these that can make a real difference to your guests experience.
If you are looking for the perfect place to say I do, or to hold an event or promotion, then look no further than Wyndham Doha West Bay. Our ballroom can be converted into five sections and can accommodate up to 900 guests for an event or 350 for a seated banquet. Located on the first floor of the hotel, the Al Bustan Ballroom is flooded with natural daylight and has a modern sleek design making the venue perfect for social gatherings, large banquets, weddings, conferences, and events.
Not only do we have a fabulous ballroom in Doha, but our full-service resort features more elegant event venues — including a banquet facility, and conference rooms — all featuring the latest technology and with a technical support team on standby to ensure that everything runs according to plan.
Another thrilling aspect of holding your event at a luxury hotel like Wyndham Doha West Bay is the accommodation for your guests. Discovering they have access to a long list of impressive amenities, which includes not one but four swimming pools, jacuzzi, sauna, steam and a fully equipped health club.
Regardless of the type of event you are planning, our dedicated team can help you make sure it goes smoothly and impresses everyone involved. Contact us to learn about booking and our hotel amenities.