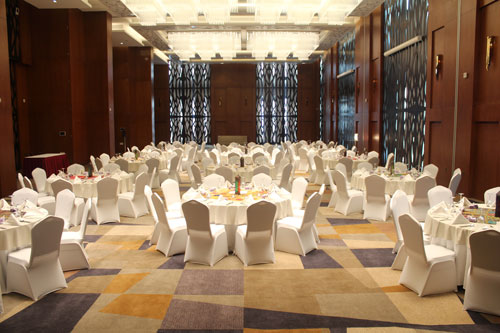 There are so many things to consider when planning a wedding, and you really want to be swept off your feet on your wedding day.  How can you make it special and truly memorable? The main thing is to focus on the details that will make a difference and keep it true to what you as a couple both love.  So when it comes to planning your wedding at our 5 star Doha West Bay hotel here are some points to consider:
A venue that can change throughout the day
You want to choose a space that can change from an elegant banquet to a place where guests can be entertained by live bands. You may even want to consider having a separate area for a pre-banquet reception. Our banquet manager and culinary team will assist you to arrange the finer details of the day including a personalised menu, recommendations on room set up and state-of-the-art technology for flawless delivery of speeches, videos, and music.
Bring the drama to the venue
If you want to be swept off your feet on your wedding day think about where you're going to say your vows – we can help you make the picture perfect. Decorations have come a long way especially in terms of floral arrangements.  Think dramatic hanging floral arrangements, custom made pedestals and twinkling candles. More weddings are choosing a circular set up around the couple creating a more intimate setting.
Ensure your guest have comfort and convenience
You want your guests to be able to stay at your chosen venue in comfort  – especially if they are traveling long distances to join you on your special day. Our brand new 5 star Doha West Bay hotel offers a choice of king or twin rooms, executive suites, as well as one two and three bedroom apartments. Guests have access to many services that make their stay even more pleasurable such as dry cleaning, currency exchange, and free valet parking. Also our location makes us convenient when it comes to travel arrangements for your guests.
For that added touch of luxury, we also provide bathrobes and slippers so they'll be nice and snug after a dip in one of our pools. For the fitness fanatics, we also have a fully equipped gym which is open day and  night.
Finish with a 'minimoon'
Planning a wedding is a huge exercise in itself that takes many months of organizing.  Starting from the wedding dress, venue, menu, cake and to the guests – the list is almost endless.  While many modern couples don't have time for a big honeymoon, the staycation or 'mini-moon' is growing in popularity.  Take some time out to de-stress and enjoy each other's company in complete relaxation. Why not extend the celebrations with close friends and family and stay at Wyndham Doha West Bay.